Wikienfk5:Community Portal
Jump to navigation
Jump to search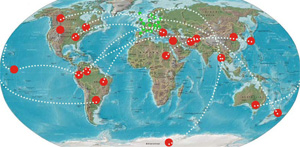 365 urban landscapes LE:NOTRE Mundus Seminar
October 2008 - January 2009
Background
The LE:NOTRE Mundus project aims to develop teaching resources and teaching activities on urban and cultural landscapes with a global scope in the context of landscape architecture education. This seminar is an accompanying measure to this overall objective. Its emphasis is on urban landscapes.
Objectives of this Seminar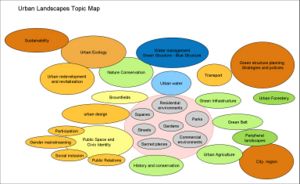 We will look at different elements of the urban landscape and analyse them in interculturally composed student groups. All seminar participants will use the LE:NOTRE Mundus Case Study Template as a common ground. Students will be grouped according to the typological similarity of the projects/case studies they wish to contribute. In the course of the seminar, the groups will go through a collaboration process that builds on the following phases:
Case study -
identification
description and detailing
analysis
comparison
synthesis
presentation

* Detailed Structure and Draft Schedule
Learning Objectives
Students shall widen their understanding of urban typologies and cultural influences affecting their shape. They will deepen analytical skills and train intercultural communication in mixed working groups. Interactive and collaborative internet technologies will be used for communication and presentation.
Contents
The seminar will be internet-based with self-study phases, group meetings and plenary sessions in the LE:NOTRE Virtual Team Room. Mixed student groups will be formed at the beginning, each will be dealing with one urban landscape typology and elaborate a comparative analysis in the course of the seminar. Plenary sessions will be used for group presentations, feedback and integration of external lecturers. A symposium together with the authors of the fall edition of the Journal for Landscape Architecture (JoLA)takes place on the 12th of November 2008.
The students' results will presented on the LE:NOTRE website and thus become visible for a wider audience. Support will be provided in the form of moderation, use of technologies and group supervision. In the European Credit Transfer System (ECTS) the seminar has a scope of 2 credits. One credit equals 25 student working hours (including both contact times and self-study).
* Detailed Structure and Draft Schedule
Target Group
Advanced landscape architecture students (third year bachelor or Master's level) of LE:NOTRE/ LE:NOTRE Mundus member universities. The course language is English. A good level of independence and willingness to work in a group and to use the internet for communication is expected.
How to take part?
Interested students send a letter of intent by e-mail. This letter should include a proposal for an urban landscape element on which they would like to work in the course of the seminar. Please send this e-mail before 15th of October 2008 to Ellen Fetzer, Nürtingen-Geislingen University, Germany (ellen.fetzer(at)hfwu.de). Depending on the level of interest, places may be limited to one student per university. However, one student can act as a contact person for the seminar in case you want to participate as a university group.
Technological Requirements
stable internet connection (DSL)
PC with Windows operation system (MAC may be also supported)
headset
How to contribute as a speaker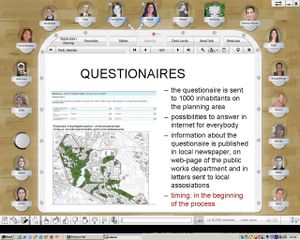 If you are contributing as a speaker in one of the plenary sessions you will be asked to prepare for a 20 - 30 minutes presentation in the form of a PowerPoint slideshow. Presentations are usually followed by a moderated discussion. You can ask for assistance of the seminar tutors in case you are not familiar with Powerpoint. Plenary sessions usually take 90 minutes.

Thematic scope:
Your presentation should focus on a case study of your regional (urban) context or on a strategic/theoretical study (or a mixture of both). A case study in understood as a realised landscape architecture project and/or strategic plan. You may be inclined to present recently developed projects. However, case studies with a certain level of matureness and evaluation are more appropriate for this seminar's discourse.
If your are preparing a case study presentation please build on this template: Mundus Case Study

Guidelines for presentations
Please consider the following aspects when you are preparing for a presentation:
Please avoid written information on the slides except for the most essential statement and questions. As you will be talking synchronously to the audience there is absolutely no need to add much textual information on the slides.
Please add many visuals and use the space given. You may not add a number of small images on one slide. Use several slides, each with one image.
If you have questions to the audience (for example at the end in order to stimulate the discussion) you should visualise the question on the slide.
Please send your presentation in good time to the seminar coordinator (one day before the meeting). We then have the chance to propose changes or additions in order to make your presentation more suitable for a virtual classroom setting.
Structure and Schedule
* Detailed Structure and Draft Schedule
* General Structure Overview:

Case Study Template
If your are preparing a case study presentation please build on this template: Mundus Case Study
Contact and Organisation
Ellen Fetzer Nürtingen-Geislingen University Germany 0049 7022 404 179
ellen.fetzer(at)hfwu.de