University Campus Nürtingen
Jump to navigation
Jump to search
---> back to overview of Case Study List
A new eye on our daily landscape
Name
HfWU Nürtingen University Campus
Location
Nürtingen
Country
Germany
Authors
Balazs Dukai, Diana Santa Cruz
<googlemap version="0.9" lat="48.608941" lon="9.351329" type="satellite" zoom="18" width="300" height="250">

</googlemap>
Short Introduction to the Area of Study
Our campus in Nürtingen has been our everyday landscape the whole year. In this place we moved, studied, made friends and achieved the tasks from our master's studies since we started our lifes in Germany.
The campus is located 2 km south from the city in an intersection of two secondary road that leads to the main entrance. Different kinds of land use industry, commerce, residential, agriculture and man-made nature meet in the area. The topography plays an important role as well, presenting a hilly and sloppy landform since the zone is in the beginning of the Swebian alps region. Forests are often found in the context giving the place a green view and places where people can have contact with a so called nature.
Besides the hills and forests the rest of the area has no important feature that can help to orientation or differentiation of this place is present.
Exercise 1: Sketching the Landscape
Time frame: October 25 - November 15, 2011
Student activities:
Creation of analytical drawings and sketches
Presentation of results
Please upload a selection of your drawings/sketches/mental maps and add them to the image gallery
Sketches and Drawings
Exercise 2: Landscape Layers
Time frame: November 15 - 29, 2011
time based changes and 'landscape biography', and/or:
topography, open spaces, built, green, traffic and water structures on different layers. *Definition of zones with coherent character
Description of this character.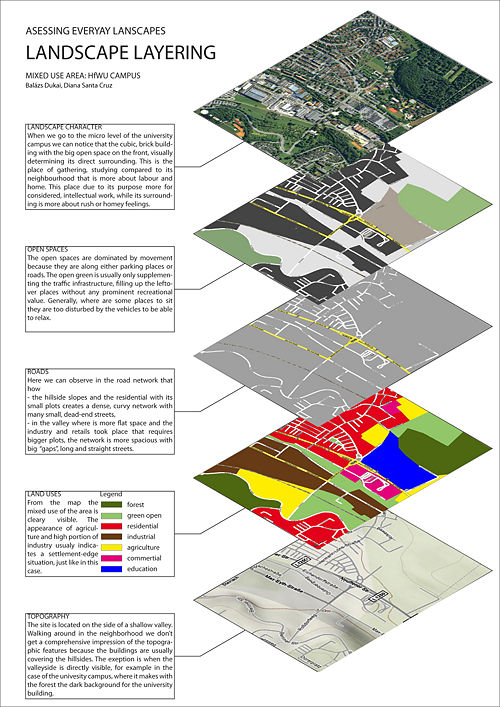 Please publish your findings here
Exercise 3: Behaviour Patterns
Time frame: December 6 - 20, 2011
How do people behave in this area? How do they use the space? What is important for them?
Observation of study area, interviews with local people and mapping of use patterns.
Preparation of short presentation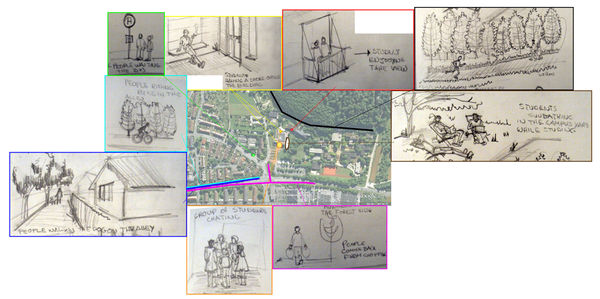 Exercise 4: Communication Concepts
Time frame: December 19, 2011 - January 17, 2012
Based on the different landscape assessment approaches students will develop a communication concept for their area of study
Which measures would be necessary for enhancing the awareness for the area?
Students are free to choose their method.
Please publish your findings here
Image Gallery
References
* Please make sure that you give proper references of all external resources used.
* Do not use images of which you do not hold the copyright.
* Please add internet links to other resources if necessary.
---
About categories: You can add more categories with this tag: "", add your categories