Transformation and reconstruction of BaiHua public garden: Alternative planning for complex objectives, China
From Wikienfk5
Name
BaiHua Park
Place
Jining City,Shandong Province
Country
China
Author(s)
John Sun,Hua Shu and Ya Li
Project start
2007.07
Completion
2011
World Heritage
No
Client
Jining urban planning design and research institute
Project costs
enter the costs (if known)

<googlemap version="0.9" lat="35.414061" lon="116.601934" zoom="10" width="400" height="300" controls="small">35.412487, 116.604424Baihua Public Garden</googlemap>
Rationale: Why is the case study interesting?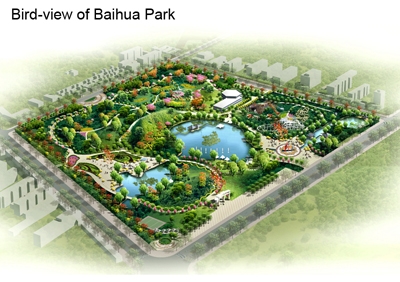 BaiHua Park is an ordinary public garden in Jining City. In its 20 years history from the 1990's, it has been looked as an simple-use open space and divided into several parts by different authorities.In 2001, archaeologists found ruins of "xinggongchunshu" in southwest of Baihua park. It is one of the famous ancient serial landscapes in Jining city. However, for some reasons, the site had been protected since then and not open to public. The renewal of this garden started from 2007, and is still ongoing. What will the BaiHua park be? From the mayor and the local administration's perspective, it should be an indispensable part of the Harmonious Society.For citizens nearby, it should be their playground for morning exercises and fitnesses. From the ecologist's view,it should be a habitat and shelter for indigenous species and creatures.For the garden's managers, it should be a park easy to operate and without additional management and money. And for us designers,it should be a cultural landscape adapting to the fast urbanization and the climate change.
The uniqueness of this case is that it has multi-expectations and complex goals.The planning will show us a programme coordinating different communities and solving so much problems.
Author's perspective
As an urban planner engaged in city planning and design for 3 years, I don't have much experience to deal with such a landscape project. So, it's a big challenge for me at first. Through the process cooperating with landscape gardeners, water supply & sewerage engineers, civil engineers and local administrative, I have learned a lot as follows:
1.Look the planning as an dynamic solution, not a final blue print.
2.City garden acts as a shelter for local species and resistance against fast metropolis expansion.
3.Design the lake to store and purify storm and rain, to adapt the climate changes and water scarcity, not just for aesthetic use only.
4.Protect ruins with a reasonable manner. Do not damage the integrity as well as enhance public knowledge.
Cultural landscape context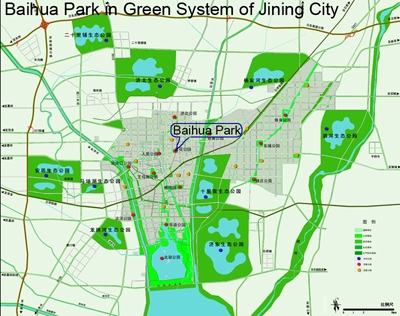 Jining city locates in the central region of southwest of Shandong province, belongs to warm temperate zone and monsoon climate. It has ample water resource. The overall resource is up to 41.74 billion stere. There are five rivers in the main district. Biological diversity is well above the average of Shandong. Baihua park will be a part of the overall green system and water grid.
As to culture, Jining city has long been well known as "The hometown of Confucius and Menci, a state of etiquette". It is the birthland of East Confucianism Culture and Chinese Culture. There are 300 ancient ruins, 70 immemorial architectures and 60 antiquated tombs in Jining. One of the famous ancient serial landscapes in Qing Dynasty, "xinggongchunshu" ruins was found in Baihua park in 2001.

The serial landscape is a traditional perception of landscape in China. This tradition records not only the direct visual landscape but also the scenes with deep historical reference, which is also the perception of landscape from various sensory experiences. The titles of many examples emphasized the interaction between the subject and object of landscape and the timeliness of landscape experience through the connection with special seasons, climates, festivals and events. Based on the ancient "xinggongchunshu" ruins, we try to create a new "eight-serial landscapes" of Jining city in Baihua park.
"Xinggongchunshu" ruins mean "Emperor Qianlong's palace with trees in the spring". It comes from a poem of Emperor Qianlong, a famous monarch in the Qing Dynasty. The protection of this ruins relates to the appreciation of historical landscape heritage.
Socio-political context
Jining is the central city of southwest Shandong province. In 2007, the population is 840,000, GDP is 1736 billion yuan.
Spatial analysis of area/project
Through calculating precipitation per year in Jining city, we get a water scope as the whole water storage in Baihua park. Based on original water system, we magnify the lake and river to store and cleanse more water. From summer to autumn, water from city drainage are collected to the lake, they are cleared up for daily use, supplementary water are pumped down as an addition for subterranean water. Through the process, the Baihua park could operate all by itself, without outsider supply from the city. And it also could preserve the security of the ecological environment.
Analysis of idea/program/function ("Planning Objective")
Analysis of design/planning process ("Process Biography")
In the 1990s, China was experiencing a fast urbanization and city expansion process, Jining city is also included.
Baihua park locates in the Liuzhuang village, it is the so-called "combination area of city and country", it has huge lakes and much cultivated land. The local Urban Planning Bureau aimed to maintain this area as a city park for people living nearby. At first, this park was divided into two parts. One was called "Baihua park", means "thousands of flowers", the other one was called "Children's Playground", landscapes and instruments were independent in the two parts.
In 2007, local municipal government decided to merge the two parks into one, and redesign it. This task was handed into Jining urban planning design and research institute.
After detailed investigation and on-spot research, a design sketch was handed to the leaders in charge. The new park aims to be open to the public, so many buildings, originally belonging to private or government owners, must be removed or destroyed. From the city to district's administration, many meetings were held to persuade the stakeholders into giving up or making sacrifice. At the same time, drawings and sketches were being revised time after time, absorbing suggestions from the government, experts and public. In August the 20th, 2008, a final design was authorized by local Urban-planning Bureau.
Analysis of use/users
The park took different users into consideration when it was redesigned in the beginning. According to the POE of this project, various users make use of different zones freely, without disturbing, just accords to designer's expectation.
Future development directions
Reconstruction of Baihua Park consists of two phrases. Phrase I had finished in 2009 and achieved much appreciation and approval from the society and people. Phrase II is still in building, The project is expected to be done in 2011.
Peer reviews or critique
Some engineers and architects from other design companies criticize that the new park lacks the feeling of farmland. They miss the days when the park used to have a natural pool, brook and barren land. They complain that too much man-made buildings in the park damage the overall landscape. On the other hand, due to the unfinished construction in the park, the water system cannot work effectively to purify and reuse rains collected from the city's drainage as expected.
Successes and limitations
The design has won many important prizes in Jining city as well as in Shandong province. It explores the possibility to use a park's water system to adapt the climate change and to deal with water scarcity. However, it's the first time for us to cope with such an item like this. We do not have much technical experience and sufficient knowledge in it.
What can be generalized from this case study?
Are there any important theoretical insights?
Short statement plus background notes
What research questions does it generate?
Short statement plus background notes
Image Gallery
Yourimage.jpg

your image text and source

Yourimage.jpg

your image text and source

Yourimage.jpg

your image text and source

Yourimage.jpg

your image text and source

Yourimage.jpg

your image text and source

Yourimage.jpg

your image text and source

Yourimage.jpg

your image text and source

Yourimage.jpg

your image text and source

Yourimage.jpg

your image text and source

Yourimage.jpg

your image text and source

Yourimage.jpg

your image text and source

Yourimage.jpg

your image text and source
References
Author Year: Title, publisher, edition, page, ...
etc.
Website Year: Link, keyword, ...
etc.
---