Tanghe River Park
From Wikienfk5
back to Project Biography List
Name
The Red Ribbon- Tanghe river park
Place
Qinhuangdao City ,habei province
Country
China
Author(s)
Ishrat Mahbub
Completion
July,2006
Client
Qinhuangdao City, Hebei Province, China
Project costs
2.5 million euro(Red ribbon only:38,000 euro)
Rationale: Why is this case interesting?
Against a background of natural terrain and vegetation of the river Tanghe, is a "red ribbon" spanning five hundred meters, which integrates the functions of lighting, seating, environmental interpretation and orientation. While preserving as much of the natural river corridor as possible during the process of urbanization, this project demonstrates how a minimal design solution can achieve a dramatic improvement to the landscape.
The major design challenge was how to preserve the natural habitats along the river while creating the new urban uses of recreation and education. The solution is the "red ribbon."
the project is very interesting because it is very challanging and dramatic according to the solution as well as very educative and recreational to the citizen live near by.
Author's personal background
Completed Bachelor of Architecture(B.Arch) in Bangladesh University of Engineering and Technology.Now doing internship in a landscape architecture office in Erfurt.
Process Biography Scheme
Here is the project biography diagram of Tanghe river park, China.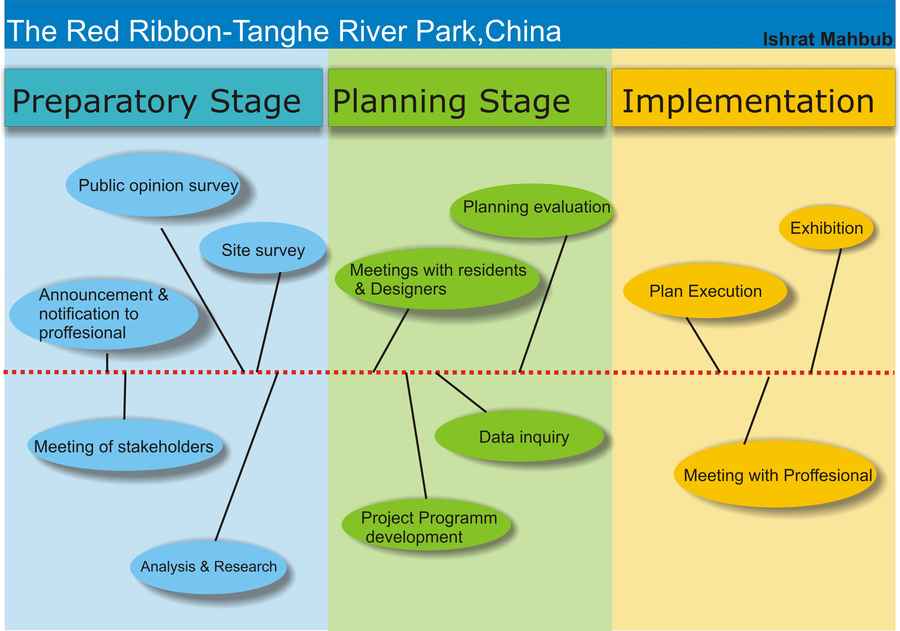 Who initiated the project and why?
Who: Peoples republic of china initiated this project.
Why: The site was totally unused natural terrain and the target was to give local peaple recreation and use their needs.
It was located at the edge of a beach city, the site was a garbage dumping site with deserted slums and irrigation facilities such as ditches and water towers that were built for farming years ago.It was virtually inaccessible and insecure for people to use.  Along with the urban sprawl process, the site was sought after for recreational uses such as fishing, swimming and jogging by the people who came to reside in the newly developed communities nearby.
When was public participation most intensive?
In this project public participation was not much intensive.Rather than professional participation mainly establish the project but they were a few public participation in preparatory and planning phases.This time public perticipation was most intensive than other phases
Which participation tools have been applied?
On which level of participation?
Preparatory stage :Public opinion survey,site survey,announcement and notification to professionals,meeting of stakeholders,analysis and research.
Planning stage :Planning evaluation,meeting with residents and designers,data inquiry,project programm development.
Implementary stage:Plan execution,exhibition,meeting with profesional.
Which stakeholders have been involved?
Mainly proffesionals involved with this project,like designer, architect,landscape architect,environmental artist,graphic artist and also in some stages local citizens of the residentioal zone nearby took part.
Have there been any festivities in order to involve the public?
There were not festivals but at the implementary stage there were an exhibition and some times public meetings were arranged to know the public requirments.
Who made the major decisions and when?
Mainly the government bodies and professionals like architects and landscape architects made the major decisions but it is unknown when they initiated and took the major decisions of the project. Back to top
Image Gallery
References
---
back to Project Biography List
---