Regeneration of Don River in Toronto, Canada
From Wikienfk5
by Archana
back to Project Biography List
Name
Restoration of Don river
Place
Toronto
Country
Canada
Author(s)
Archana Bais
Completion
On going project
Client
Toronto City Council
Project costs
N.A.
Rationale: Why is this case interesting?
This case is interesting because of the following reasons:
. This case is the unique example of ability to unite and co-ordinate local and regional interests. Each community is fired by emotional attachment to its own stretch of river and inspired by the possibility for environmental renewal. Through active public participation and transcending arbitrary political boundaries, the city council is able to facilitate the transformation of local passion in to actions across entire watershed.
. Public participation is not limited to solicitation. Public is an active contributor to implementation as well. Right from boy scouts to senior citizens, varied groups of people are active participants in the process.
. This case is also a great example of social education i e. learning by doing. It is a collective effort to restore and maintain the chemical, physical and biological integrity of the water in the river.
Author's personal background
Bachelors in Architecture (B.Arch) with a major in Landscape from MITS Gwalior, India with over seven years of international work experience in structures, conservation and landscape. Member of Council of Architecture (COA), India and Association of Architects (AOA), India. Also worked as guest Faculty of Interior Design at Government Women Polytechnic College, Gwalior, India and NIFD, India. Studied one year of Masters of Landscape Architecture in the University of Toronto. Currently studying in first semester of IMLA (International Masters in Landscape Architecture) and working with bof architektin and IMS engineers in Hamburg, Germany.
Process Biography Scheme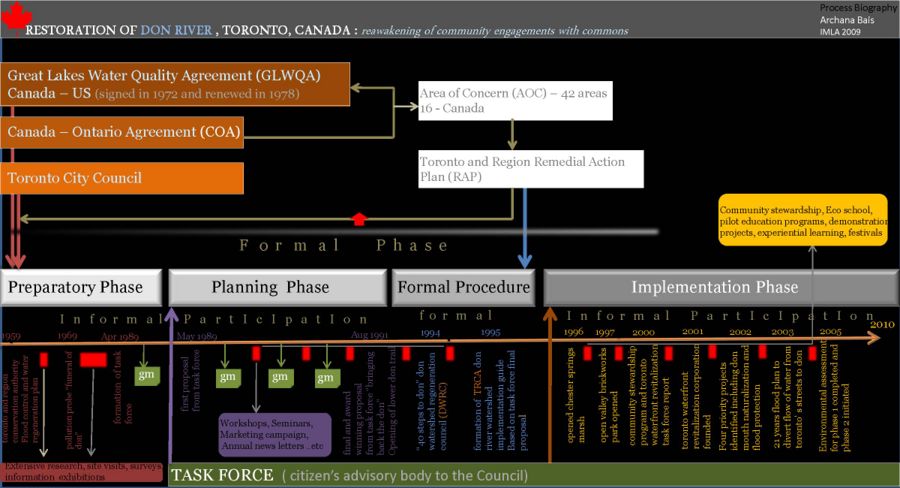 Who initiated the project and why?
City of Toronto initiated the project in 1989. The Don River Watershed is one of the great natural resources in the metropolitan Toronto area. The valley lands create a stretch of green space in the most urbanized area of Canada. The river is 38-km long, it flows into Toronto Bay and Lake Ontario. The entire watershed, or drainage basin, of the Don River is 360 sq km. Approximately 800,000 people live in the watershed making the Don Canada's most urban river. For 200 years, like many urban rivers, the Don has suffered the impacts of urbanization, which resulted in increased pollution, heavy flooding and turbid sediment laden waters. By the second half of 20th century wildlife population was in sharp decline and many species had disappeared, recognizing these challenges, Toronto City Council initiated this project.
When was public participation most intensive?
Public participation gathered steam in 1989 with a public forum at Ontario's science centre which was attended by 500 people and resulted in the formation of Task Force to Bring back the Don, a citizen advisory body to Toronto City Council. Since then it is the most active organization in this project. Up till now, an estimated 10,000 Toronto citizens have participated in the Task Force to Bring Back the Don restoration activities.
Which participation tools have been applied?
Extensive research, surveys and mapping, site visits, workshops, seminars, marketing campaign (bi-annual newsletters, brochures), eco-schools, pilot education programs, demonstration projects, park stewardship programs and experiential learning. Almost all tools were used at some point in the past 17 years.
On which level of participation?
Extensive research, information sessions during, Marketing campaign (bi-annual newsletters, brochures, online blogs and sites Co-Knowing
Workshops, Advisory group meetings, Public meetings, Information seminars, Surveys and mapping, Site visits during, Online blogs and sites (with feedback function) Co-Thinking
Eco-schools, Pilot education programs, Demonstration projects, Park stewardship programs and Experiential learning during Co-Operating and Co-Deciding
Which stakeholders have been involved?
Stakeholders involved:
International Bodies: · US and Canada Government - GLWQA (Great Lakes Water Quality Agreement
State Bodies: · Federal - COA (Canada Ontario Agreement) · Provincial - Toronto city council · Municipal - Toronto and Region conservation authority (TRCA), Don Watershed Regeneration Council (DWRC)
Volunteer Groups: · Municipal - Municipal councilors · Representatives from various public interests groups · Residents · Different business groups
Professional · Technological consultants · Urban Planners · Environmentalists · Landscape architects
Have there been any festivities in order to involve the public?
There are many annual festivities organized from time to time to involve, inform and educate the community like Richmond Hill Mill Pond splash , Paddle the Don, bike or walk the Don, Tree planting day etc. In 1999, the Task Force celebrated its tenth anniversary with a "Bring Back the Don Day" to mark successes and invite more citizens to see the value of the river as a commons. The event, which included a guided commuter-train tour of the valley, a boat tour, and visits to many of the successfully restored sites along the Don, drew 1,200 citizens and was covered by the major media of the city.
Who made the major decisions and when?
Following major decisions were made:
1959 – Toronto and Region Conservation Authority (TRCA) formed flood control and water conservation plan
1969 – Pollution Probe Funeral for the Don
Apr 1989 – Toronto city council formed the Task Force (Citizen advisory body to the Council) to Bring Back the Don
May 1989 – The Task Force created their first proposal
Aug 1991 – The Task Force finalized their "Bring back the Don" proposal
1994 – 40 Steps to Don Don watershed regeneration council (DWRC)
2000 - Task Force started Community Stewardship Program
Image Gallery
References
http://www.toronto.ca/don/watershed.htm
http://www.mwilson.on.ca/don.html
---
back to Project Biography List
---