Peri-Urban Areas of Istanbul
Jump to navigation
Jump to search
Landscape Change in the Peri-Urban Areas of Istanbul, Turkey - Former Municipal Landfills and Their Surrounding Areas by Aycim Turer Baskaya
--> Back to Rural Landscapes Seminar Case Study List
Name
please enter the name here
Location
please enter the town/area name
Country
please enter the country here
Topic
please enter the topic here
Office
office or planner/designer
Client
please enter the client here
Completion
Please enter the date of completion
Project costs
Please enter the costs (if known)
Case study author(s)
Please enter your name(s)

<googlemap version="0.9" lat="41.018247" lon="29.078064" type="terrain" zoom="9" width="300" height="200"> 41.052722, 28.765082, Kucukcekmece Landfill 41.137652, 28.933611, Kemerburgaz Landfill 41.057123, 29.109521, Umraniye Landfill 40.93775, 29.216681, Yakacik Landfill 40.863874, 29.346585, Aydinli Landfill </googlemap>
Rationale: Why is this case study interesting?
(Please summarise:- e.g. Design Innovation? Planning Exemplar? Theoretical Insights? Lessons learned from its failure? [It doesn't have to have been successful] )
(Think about it from the view of another educator/student in a different country. Why should I use this case study in my teaching/education?)

Over the last 50 years, the world has faced dramatic growth of its urban population. In 2007 the amount of urban residents has outnumbered the rural population for the first time in history and by the year 2030 already two-thirds of the world's population is expected to live in cities. The number of so-called megacities –cities with more than 10 million inhabitants– increased in the period from 1975 until today from 4 to 22, mostly in less developed regions. Furthermore, a United Nations report projects that almost all global population growth in the next 30 years will be concentrated in urban areas. This dynamic phenomenon will necessitate advanced methodologies such as spatial technologies, which will help planners solve the problems accompanying with the city growth. In this uncontrolled situation, planners need tools to measure, monitor, and understand urban sprawl and landscape change processes. Therefore, landscapes at the fringe are a frequently overlooked asset within spatial planning, for example regarding wildlife and recreation, but also for the character and green structure of the city of tomorrow. The interpretation of areas along the rural-urban fringe is often characterized by the awareness that these landscapes are sooner or later to be transformed. For centuries, city edges have been associated with waste and wastelands. Refuse dumps have frequently been located at the outskirts of the city, and the metaphor of 'wasteland' has been used to depict landscapes at the urban fringe. After 1970s, process of sprawl in megacity of Istanbul brought about an inevitable contact with the new residential areas and existing wastelands. Therefore, in the second half of 1990's owing to the risks they posed on environmental health and safety, 5 irregular solid waste disposal sites were reclaimed according to engineering techniques. However, after their reclamations they left non functional. Today owing to their transition potentials these sites and their surrounding areas are selected as the case areas of this study.
Author's perspective
(What theoretical or professional perspective do you bring to the case study? Please answer from your personal perspective.)
Main objective of this research is to monitor and estimate land use changes for the benefit of sustainable landscape change. Hence, the objective is to monitor temporal changes and spatial distribution of land uses in order to identify main driving forces of peri-urban landscape transformation. Related materials are:
● Aerial photographs and maps (1960s to 2000s) ● On-site observations, historical photographs, documentations ● 1/5000 scaled construction plans
This diachronic study requires detailed undertanding of the degraded periurban areas in order to enhance strategic decisions for sustainability.
Landscape and/or urban context
(Biogeography, cultural features, overall character, history and dynamics)
Istanbul is the largest city in Turkey, largest city proper and second largest metropolitan area in Europe, and fourth largest city proper in the world with a population of 12.6 million. Istanbul is also a megacity, as well as the cultural and financial center of Turkey. It is located on the Bosphorus Strait and encompasses the natural harbor known as the Golden Horn, in the northwest of the country. It extends both on the European (Thrace) and on the Asian (Anatolia) sides of the Bosphorus, and is thereby the only metropolis in the world that is situated on two continents. In its long history, Istanbul has served as the capital city of the Roman Empire (330–395), the East Roman (Byzantine) Empire (395–1204 and 1261–1453), the Latin Empire (1204–1261), and the Ottoman Empire (1453–1922). The city was chosen as joint European Capital of Culture for 2010. The historic areas of Istanbul were added to the UNESCO World Heritage List in 1985.
Istanbul is surrounded by ecologically important areas such as water basins and forest areas. However, as an international financial center, Istanbul takes huge amount of immigration from other cities of Turkey. Immigration and changing life styles of high income people bring about the urban sprawl problem.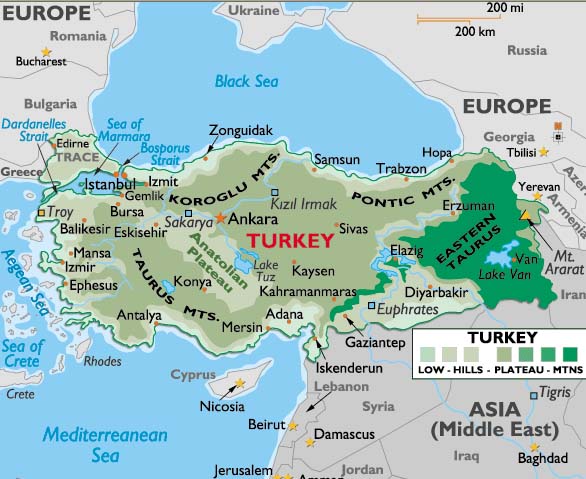 Illustration: Map; sketches; short descriptive analyses
Brief explanation of culture, political economy, legal framework
Illustration: Bullet points, image, background notes
History
(How did the area/project/plan at the focus of the case study evolve?) (Illustration: Table or time line)
Solid waste disposal had been irregular in Istanbul till the beginning of 1990s. At the mid of 1970s, large dumping areas had been established in the rural areas of Istanbul. However owing to the uncontrolled city expansion, these dumping areas were surrounded by residential areas during the 1980s. Similar processes occured in also other cities. However as the biggest city of Turkey, drastic problems occured in Istanbul, causing death of some citizens. By regarding the risks they posed to human health, state government decided to close all dumping areas in Turkey and establish regular solid waste disposal sites instead of them.
Former landfills of Istanbul constitute the case areas of this study. Today they are surrounded by fragmented landscapes both spatialy and socially. Speed of traditional planning is not enough for rapid growing city of Istanbul. Hence, owing to the problems occuring between local and state government, there isn't any development plan in Turkey till 1995. Fringe areas develop according to the district municipalities' local plans but also it is not easy for these municipalities to control self-developing rapid changes in these sites.
Spatial analysis of area/project/plan
What are the main structural features?
How has it been shaped? Were there any critical decisions?
Illustration: Map/diagram/sketches photos and background notes
Analysis of program/function
What are the main functional characteristics?
How have they been expressed or incorporated?
Illustration: Map/diagram/sketches photos and background notes
Analysis of design/planning process
How was the area/project/plan formulated and implemented?
Were there any important consultations/collaborations?
Illustration: Map/diagram/sketches photos and background notes
Analysis of use/users
How is the area/project/plan used and by whom?
Is the use changing? Are there any issues?
Illustration: Map/diagram/sketches photos and background notes
Cross-cutting questions
How may landscape architecture contribute to the integration of different user groups in the urban fringe?
Integration in an urban area
Quality of life in rur-urban areas
Flexibility of life styles
Keywords: Preferences of different groups, public open spaces designed according to joint-preferences
Landscape fragmentation in the fringe areas of Istanbul is not only a spatial context but also a socio-economic one. Although their ratios differ according to the case areas, "squatter areas, luxury gated communities, stone quarries, forest areas, large water surfaces and rivers, indusrial sites and large transportation lines" form a complex spatial and social structure in all of the 5 case study areas.
Public open spaces creation is an important tool for the spatial and social integration. Understanding the preferences of different ethnic and socio-economic groups, is the basic of sustainable landscape development. Hence interpretation of these preferences and designation/redesignation of public open spaces according to these joint-preferences respond to the amenity needs of people.
How can the transformation process be connected with the landscape sub-typologies?
where does rural start?
Rur-urban
Dynamics flows between urban and peri-urban areas
Monitoring land-use change
Keywords: Monitoring landscape change (spatio-temporal analysis), Understanding driving forces, Landscape character assessment, Improvement of green infrastructure
Landscape is a living record of the interaction between nature and people. Hence monitoring of landscape change and understanding its driving forces, enable us to do landscape characterization and to sort landscape typologies.
Through understanding how places differ, we can ensure that future development will contribute to sustainable green infrastructure establishment
This study establishing a diachronic landscape information system at a fringe scale can serve the following goals:
Identification of temporal changes and spatial distribution of land use changes
Identification of "change processes" as "land use conversion", "land use modification" and "no change"
Identification of driving forces at the political, economic, cultural, technological and natural/spatial configuration: causes, trends, trajectories
Identification of landscape features and character areas for the benefit of sorting sub-typologies
Development of alternative scenarios related to the future of landscape.
How may landscape planning contribute to quality improvement?
Aesthetic quality
Environmental quality
Social quality
Keywords: European Landscape Convention, Landscape quality objectives, Landscape transformation process
According to European Landscape Convention, "defining landscape quality objectives" is vital for the further steps such as landscape protection, management or planning. Through signing this Convention, European countries accept to improve their landscapes by using the tools described in the Convention. Existence of such a Convention, is for the benefit of landscape quality improvement.
Decisions that change the landscape directly affect the quality of our lives. Hence there is a strong interaction with landscape change and landscape quality. Understanding the dynamics of change, creates new opportunities for improvement of landscape character by regarding quality objectives.
Can the maintenance and development of agricultural land-use in urban fringes be a strategy of a greenbelt?
Agriculture in the urban fringe
Agriculture as a green infrastructure element
Green infrastructure
Creating green links for wholeness
Greenbelt, agriculture as a part of it
Keywords: Productive landscape, Fitting into existing sub-typologies
As it addresses to "productive landscape", agriculture can be an important ecological and socio-economic tool for the improvement of fringe areas. However attributes of agricultural land-use, should be organized and reinterpreted site specificly in order to fit into existing landscape typologies.
From Istanbul point of view, only 2 of the 5 case study areas is close to existing small scale agricultural facilities. Spatial importance of these agricultural facilities are relatively weak than the other land uses/covers existing in the surrounding areas of disposal sites. By regarding the driving forces on all these areas, only Kemerburgaz landfill site's surrounding area is available for agricultural land-use as a green belt strategy.
Future development directions
How is the area/project/plan evolving?
Are there any future goals?
Illustration: Map/diagram/sketches photos and background notes
Peer reviews or critique
Has the area/ project/plan been reviewed by academic or professional reviewers?
What were their main evaluations?
Pleas add references, quotes...
Points of success and limitations
What do you see as the main points of success and limitations of the area/project/plan?
Illustration: Summary table
What can be generalized from this case study?
Are there any important theoretical insights?
Short statement plus background notes
Which research questions does it generate?
Short statement plus background notes
Image Gallery
References
Please add literature, documentations and weblinks
---
About categories: You can add more categories with this tag: "", add your categories