Minutes Participation Plenary 7
Jump to navigation
Jump to search
Concept Map: Public participation in Decision Making
Our meeting started with a concept map presentation given by Ulrike Hail about a model for implementing participation in decision-making. The concept map referred to a paper written by Tomas Weber et al.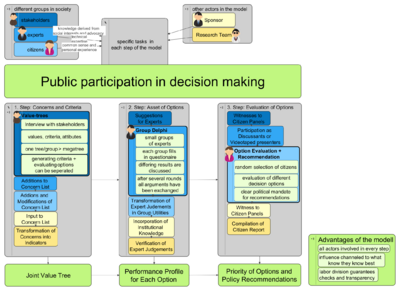 Jelle Behagel: Ideals of Public Participation
Jelle Behagel from Wageningen University presented aspects of his PhD research which links between political and environmental sciences. Jelle explores concepts of democracy and the ideals of participation related to them. As a case study the implementation of the EU's Water Framework Directive in the Netherlands has been analysed with respect to how public participation has been applied.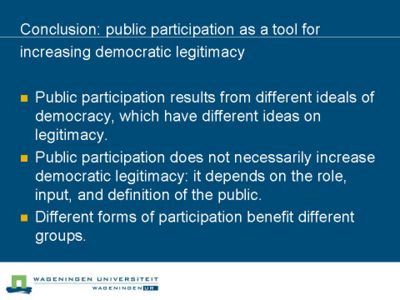 Lecture Recording
Next Steps
We will now start the last working phase of the seminar. The objective is to develop a process biography of a project of your own choice. The project may come from your personal context (office, studies) and it can be past, present or even fictive (this means that you may invent an ideal participation process biography for a project you are currently working on in your studies).
Please make sure that you are aware of your theme by the 8th of December as we will also try to establish small groups with related subjects.
Please go to the project biographies page and make an entry in the list with your name and theme. You will then be given a template for documenting your project. Presentations will take place within the last three sessions of the seminar (12. / 19. / 26. January 2010).