Minutes Participation Plenary 3
Jump to navigation
Jump to search
Theory Reading Exercise
A quick feedback round showed that students had basically understood the task and the functionality of the WIKI. So had problems to decide for one specific theme. Please make your decision soon as we intend to plan the short concept map presentations at the end of next week's meeting.
Lecture Part: The Process Biography Approach
Diedrich Bruns gave an introduction to the Process Biography Approach as a tool for better understanding the interaction between planners and stakeholders. Please refer to these document as a foundation for creating your own process biography.
The lecture documents are available in the password protected area: Methods and the Analytical Tool "Process Biography Approach"
Lecture Recording
Paticipants' cards contributions
Process Biography Exercise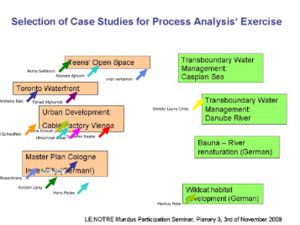 At the end of the session the participants were asked to select one out of a list of several case studies that had been prepared as a basis for process biography development. The exercise for next week's session (10th of November) is to go through the respective document and develop a process biography scheme. Please look at the lecture documents if you are not yet aware of what a process biography is.
The following questions may give some guidance, too:
Who initiated the project and why?
Which formal and informal phases can be identified?
When was public participation most intensive?
Which participation tools have been applied?
On which level of participation?
Which stakeholders have been involved?
Have there been any festivities in order to involve the public?
Who made the major decisions and when?
Some themes have been chosen by up to 4 people, so you may work as a small group. Your results will be presented on November 10th in the form of 2-3 Powerpoint slides. Please send the slides to Ellen or Heike on Tuesday 10th in the morning.
If you have not selected a theme yet, please got the case study list and add your name to the case you have chosen.