Landscape Concepts 2010
Jump to navigation
Jump to search
Course Description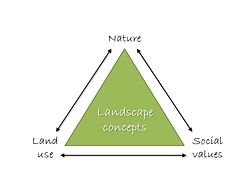 Online Seminar in Fall / Winter 2010: Concepts of Landscape
Landscapes are the physical manifestation of manifold forces and processes. Geology and climate shape them as well as changing human uses, regulations and values. In order to be able to develop visions and concepts for future landscapes, we need a well‐grounded understanding of these different forces and their correlation.
This online seminar aims at exploring some of these aspects. The international setting of the seminar will give additional insight in possible cultural similarities and differences of values, approaches and goals of landscapes and their development.
Beside readings and guest lectures about different theories and concepts, the students will analyse the landscape of their university town. All groups will follow the same assignments and format in order to get comparable results and discuss possible similarities and differences.
Learning Objectives
The seminar will add to a critical understanding of crucial aspects of landscape architecture. Along different assignments and interactive tools, the students will practice and enhance their methodological skill set and train communication and team work competences. The specific learning environment offers opportunities for an intercultural exchange with peers.
Structure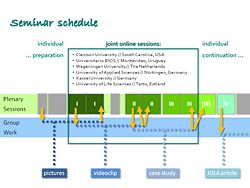 Joint online meetings with guest lectures, interactive tools and student presentations;
Individual work of teams as well as internationally mixed team work (discussion of readings, presentations, ...);
Block I: Theories and Concepts of Landscape 2 online sessions with short student presentations, interactive tools and (guest)lectures
Block II: Reading the Local Landscape 2 online sessions with student presentations
Block III: Future Landscapes 2 online sessions with lecture, short student presentations and discussion
Block IV: Landscape Concepts in Comparison 6 online sessions with guest lecture, short student presentations and discussion

for more details, please see:
Time Frame
6 online meetings taking place from October 19 - November 30, 2010, Tuesdays from 6.30 - 8.00 pm CET in the LE:NOTRE Virtual Team Room
Your local time? See Time Zone Conversion
Participants will be able to login from 6.00 pm CET for informal questions & answers.
Please make sure to log in at least 10 mins before official starting time for appropriate soundcheck so that we can start the session on time!!
Optional work before and/or after online meeting time in individual groups.
Assignments
This seminar has a regular scope of 2 ECTS. Participants are expected to attend the plenary sessions on a weekly basis and to collaborate and communicate efficiently in small group work between online seminar sessions. The core assignments are (details will be defined in individual assignments):
Assignment 1: 3 pictures representing the landscape of the individual university town (short online presentation)
Assignment 2: documentation and interpretation of transect from town center to edge along video, section, maps, …
Assignment 3: presentation of "good practice" examples for promising recent approaches in landscape development (internationally mixed teams – comparison of cases from two countries)
Assignment 4: collection of landscape concepts from individual cultural backgrounds, comparison with contemporary scientific literature in international teams and visualisation of a concept map (short online presentation in internationally mixed teams)
for more details, please see:
Target Group
The course language is English. Efficient skills in both speaking and writing are presumed.
Good levels of independence and willingness to work in a group are expected.
Although one assignment deals with producing a digital videoclip, prior knowledge of how to apply contemporary media for presentation and communication are not crucial.

Participating Universities:
Technological Requirements
stable internet connection (DSL)
PC or laptop with Windows operating system (or MAC with a different client)
headset (microphone and earphones)
How to contribute as a speaker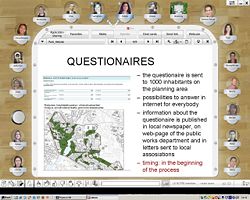 If you are invited as a speaker in one of the plenary sessions you will be asked to prepare for a 20 - 30 minute presentation in the form of a slideshow (final format: pdf file). Since plenary sessions usually take 90 minutes, presentations are often followed by a moderated discussion (15 mins introduction, 30 mins presentation plus 30 - 45 minutes discussion).

Guidelines for presentations
Please consider the following aspects when you are preparing for a presentation:
Please avoid written information on the slides except for the most essential statement and questions. As you will be talking synchronously to the audience, there is absolutely no need to add much textual information on the slides.
Please add many visuals and use the space given. You may not add a number of small images on one slide. Use several slides, each with one image.
If you have questions to the audience (e.g. at the end in order to stimulate the discussion) you should visualise the question on the slide.
Please send your presentation in good time to the seminar coordinator (at least two days before the meeting). We then have the chance to propose changes or additions in order to make your presentation more suitable for a virtual classroom setting.
Contact and Organisation
Doris Gstach
PhD, Assistant Professor // Department of Planning and Landscape Architecture // College of Architecture, Arts and Humanities // Clemson University, U.S.A
email: dgstach(at)clemson.edu
Lecturer // Faculty of Landscape Planning / Land Use (Prof. Dr.-Ing. Diedrich Bruns) // School of Architecture, Urban Planning and Landscape Architecture // University of Kassel, Germany
email: heike.kaiser(at)gmail.com
Nürtingen-Geislingen University, Germany // Study Programme International Master of Landscape Architecture
email: ellen.fetzer(at)hfwu.de