LE:NOTRE Mundus Online Seminar Public Participation 2009
Jump to navigation
Jump to search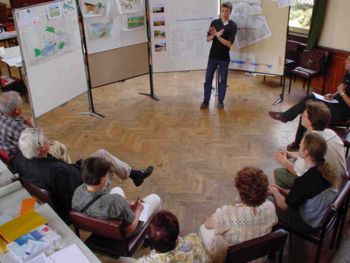 Seminar Focus and Concept
This seminar aims to introduce into the scope of consultation, participation and social inclusion in landscape and open space planning. Processes of consultation and participation are part of virtually all development, planning and design procedures in urban and rural areas. Structuring, analysing, documenting and reflecting these procedures is a task all professionals need to do. In the course of this seminar, students will not only get to know the theoretical and instrumental framework. In addition, they will be asked to apply these methods to projects they know well.
Learning Objectives
Knowledge and understanding of social and planning theory, and skills to relate them to political and institutional situations, particularly to case studies
Knowledge of processes and analytical methods applied to consultation and participation in landscape and open space planning / -design
Skills to assess and apply tools such as presenting and visualising different interests, intentions, ideas, alternative concepts, plans and designs
Ability to structure a planning and / or design process with scope for consultation, participation and social inclusion
Competence to select and apply techniques suitable for these processes, and critically reflect upon aims, content, process, tools and outcome of a planning and/or design project
Competence to work in an international team and to apply advanced interned-based technologies.
Contents
Part A: Social and Planning Theories (lectures and compulsory readings)
Part B: Methods of Process Analysis (introductory lecture and exercise)
Part C: Evaluation of Participatory Tools (expert reports)
Part D: Analysis of Relevant Case Studies (students apply methods to own cases)
Part E: Reflection
Time Frame
Structure and Schedule
* Detailed Structure and Draft Schedule
Seminar Assignments, Requirements and ECTS
This seminar has a scope of 2 ECTS
Participants are expected to attend the plenary sessions and to collaborate in small groups
The assignment is a process analysis of a planning project (documentation and presentation)
Target Group
Advanced landscape architecture students (third year bachelor or Master's level) of LE:NOTRE/ LE:NOTRE Mundus member universities. The course language is English. A good level of independence and willingness to work in a group and to use the internet for communication is expected.
How to take part?
Interested students send a letter of intent by e-mail before 18th of October 2009 to Ellen Fetzer, Nürtingen-Geislingen University, Germany (ellen.fetzer(at)hfwu.de). Later registrations might be considered as well, but students should start in time to keep up with the overall process. Depending on the level of interest, places may be limited to one student per university. However, one student can act as a contact person for the seminar in case you want to participate as a university group.
Technological Requirements
stable internet connection (DSL)
PC with Windows operation system (MAC may be also supported)
headset
Case Study Template
If your are preparing a case study presentation please build on this template: Mundus Case Study
How to contribute as a speaker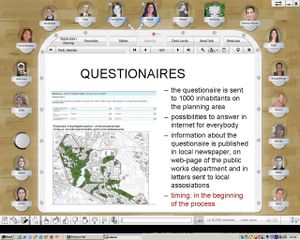 If you are contributing as a speaker in one of the plenary sessions you will be asked to prepare for a 20 - 30 minutes presentation in the form of a PowerPoint slideshow. Presentations are usually followed by a moderated discussion. You can ask for assistance of the seminar tutors in case you are not familiar with Powerpoint. Plenary sessions usually take 90 minutes (30 - 45 minutes presentation plus 30 - 45 minutes discussion).
Guidelines for presentations
Please consider the following aspects when you are preparing for a presentation:
Please avoid written information on the slides except for the most essential statement and questions. As you will be talking synchronously to the audience there is absolutely no need to add much textual information on the slides.
Please add many visuals and use the space given. You may not add a number of small images on one slide. Use several slides, each with one image.
If you have questions to the audience (for example at the end in order to stimulate the discussion) you should visualise the question on the slide.
Please send your presentation in good time to the seminar coordinator (one day before the meeting). We then have the chance to propose changes or additions in order to make your presentation more suitable for a virtual classroom setting.
Contact and Organisation
Ellen Fetzer Nürtingen-Geislingen University Germany 0049 7022 404 179
ellen.fetzer(at)hfwu.de