Case Study Clemson 1
Jump to navigation
Jump to search
---> back to overview of Future Landscapes Group 1
Buffalo Bayou by Hanna, Kosnitchzki, McLaughlin, Ogletree, Yonce
Name
Buffalo Bayout
Location
Houston, Texas
Country
USA
Office
multiple firms
Client
Buffalo Bayou Partnership
Completion
in process
<googlemap version="0.9" lat="29.765718" lon="-95.363903" type="satellite" zoom="15" width="300" height="250">

</googlemap>
Core Question 1: In how far does this project reveal your concept of future landscapes?
This project represents how landscape architecture can influence our cities. Buffalo Bayou has restored an urban waterway and made it accessible in the heart of the urban core. As cities grow it will be important to retain these natural features and make them available to city residents. This project also is an example of a project working with the transportation infrastructure of the city instead of trying to avoid or hide it. In addition, the designers have used light to create a unique place in the city at night.
Landscape and/or urban context
Buffalo Bayou is located in Houston, Texas
It is a major part of the city's natural landscape that has played an important role in shipping and commerce.
The Bayou has been transformed from a resource for business to public amenity.
Buffalo Bayou was restored as public park.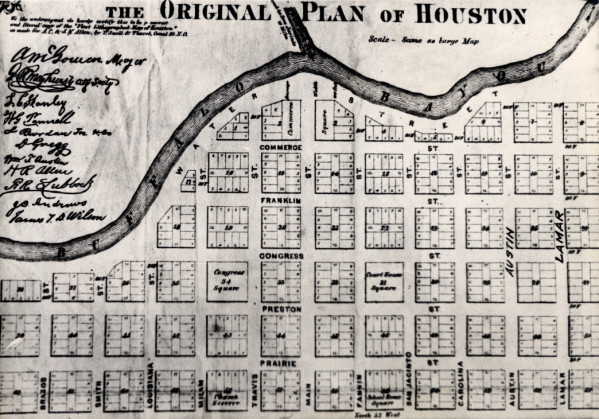 http://en.wikipedia.org/wiki/File:Buffalo_Bayou_map_1869.jpg
The project was initiated by the mayor of Houston but then a non-profit organization was formed to manage planning and implementation.
The non-profit is made up of civic, environmental, governmental and business groups and has a director appointed by the mayor.
Spatial analysis of area/project/plan
Park is made up of bike/pedestrian paths and boating trails.
Many park units make up the green space.
Buffalo Bayou has been the source of commerce for Houston.
It has been shaped by shipping in the form of dredging. Also it has been managed for flood and insect control. Many other waterways in Houston have been channelized with concrete.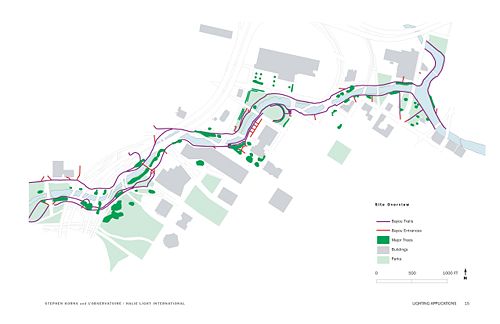 Analysis of program/function
Bike paths, canoe trips and lighting are key elements of the design. Particularly the lighting of the highway overpasses is a unique part of the park, providing an expansion of the program into the night.
How have they been expressed or incorporated?
Illustration: Map/diagram/sketches photos and background notes
Analysis of design/planning process
Project was formulated by city government and civic leadership. The process of planning and implementation has been ongoing as the park includes many different parts.
Analysis of use/users
Park is used by residents of Houston. Many different groups use the park - walkers, cyclists, canoe/kayakers
Core Question 2: What is the role of landscape architecture in this project?
This project is completely planned and designed by landscape architects. Many complex issues are at play as the park has to work around large infrastructure and also deal with urban stream ecology. The field of landscape architecture is suited to such projects as these many variables must be balanced within a urban context.
You may add 1-2 more core questions as discussed in your group
Image Gallery
References
Image - http://www.flickr.com/photos/jfre81/5130755307/ Image - http://www.flickr.com/photos/euthman/4938197309/ Image - http://www.flickr.com/photos/hellamike81/4550117126/ Plan - http://www.buffalobayou.org/BB_Phase2.pdf.pdf Image - http://www.flickr.com/photos/mojodenbowsphotostudio/4529945450/
---
About categories: You can add more categories with this tag: "", add your categories