Neubebauung Siedlung Tannenweg in Bad Vilbel, Germany
From Wikienfk5
back to Project Biography List
Name
Neubebauung Siedlung Tannenweg
Place
Bad Vilbel
Country
Germany
Author(s)
Sven Rosenkranz
Completion
2011
Client
CDS Wohnbau
Project costs
12,5 mio. €
Rationale: Why is this case interesting?
The spa town of Bad Vilbel is one of the most popular residential areas of Rhein-Main.
Here, just next to Frankfurt, it`s planned to build 34 high-quality semi-detached houses on a private parcel of more than 2 acres.
The investor named "CDS - Wohnbau" invests a total of 12.5 million euros.
Author's personal background
Bachelor of Landscape Architecture in 2009 at Fh Wiesbaden, Fb Geisenheim Since Oct. 2009 studying International Master of Landscape Architecture at Nürtingen-Geislingen University.
Process Biography Scheme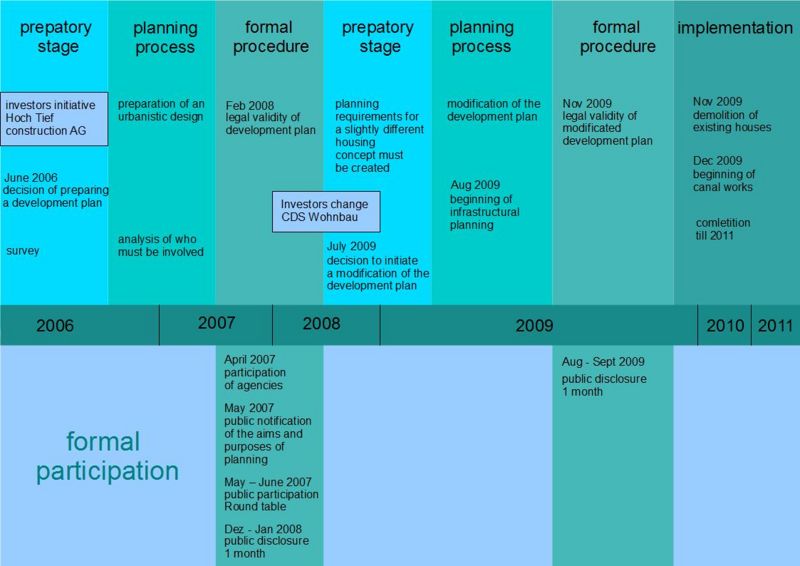 Who initiated the project and why?
The residential area was purchased in 2006 by the "Hoch Tief Construction AG".
However, the existing buildings of the former Mormon settlement in Bad Vilbel corresponds not to
modern forms of accommodation and will be replaced in this context by a new housing development.
On request of the investor, the town of Bad Vilbel wrote out the development plan.
By the establishment of a development plan an orderly development of the urban area should be enabled.
When was public participation most intensive?
The public participation was conducted during the construction planning procedures.
Which participation tools have been applied? On which level of participation?
Public participation and public disclosure of the development plan for a period of one month.
The public should be extensive informed of the proposed plan and its potential impact(level of informing =lowest degree of public participation).
The public also should participate actively in the planning discussion ( level of consultation).
Public participation according to paragraph 3 of the german Building Code was conducted as part of the preparing and modification of the development plan during the formal procedure.
Which stakeholders have been involved?
Stakeholders are the investor "CDS Wohnbau", landscape architects, the city of Bad Vilbel
and public agencies, for example, the Hessian Forestry Department, Federation for Environmental Protection Germany,
Frankfurt Planning Association and the citizen initiative.
Have there been any festivities in order to involve the public?
There havent been any festivities.
Who made the major decisions and when?
The main decisions were made by the city council Bad Vilbel during the construction planning procedures.
Author´s personal statement
I am sure that the acceptance by the citizens of Bad Vilbel would have been greater if the Enlightenment, Codetermination and public participation had been operated on a larger scale than only the formal procedure of the german Building Code.
Image Gallery
References
http://www.cds-wohnbau.de/projekte/frankfurt/bad-vilbel/index.shtml
http://www.bad-vilbeler-anzeiger.de/allgemeine-seiten/artikel.html?tx_ttnews[tt_news]=7977&cHash=881228a34d
http://www.fr-online.de/frankfurt_und_hessen/nachrichten/wetterau/?em_cnt=1723324&
http://www.pressemeldung-hessen.de/bad-vilbel-bauleitplanung-der-stadt-bad-vilbel-3-1824/