Archive Renewable Energy and Landscape Quality
Jump to navigation
Jump to search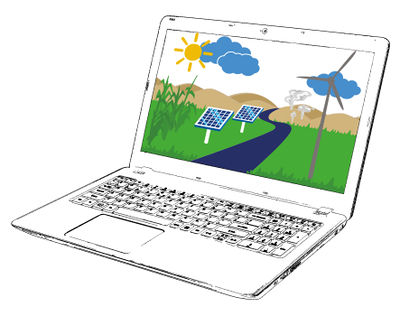 Background and motivation for this lecture series
With the ambitious global, European and national targets for renewable energies that need to be met for climate protection, landscapes are facing massive changes.
Wind turbines, photovoltaic arrays, large hydro-dams, geothermal plants, and large area biomass cultivation are landscape elements that do not always find easy social acceptance when it comes to local project implementation.
On the other hand, these new drivers of landscape change offer the chance to give landscape a new value and weight in negotiating planning decisions, landscape development and design alternatives.
With the eLecture Renewable Energy and Landscape Quality, a joint venture between the EU COST Action TU1401 RELY and the LE:NOTRE Institute, you have the chance to learn about the multi-disciplinary facets of energy landscapes from international experts in a series of 7 online lectures, ranging from social sciences, landscape planning and participation, media studies, environmental planning, human geography to landscape architecture and design.
How to participate?
The lectures are all held online making use of virtual classroom software. You can attend the sessions via your personal computer from anywhere.
Participation is free of charge but requires registration.
Registered participants will receive regular invitations to the lecture sessions, as well as information regarding the availability of recordings and the technical requirements.
Participants' Map
Participants share their locations on this map
Lecture recordings
Please access the lecture materials and recordings here (open access)
Registration
Our series starts on the 2nd of November 2016. You can register any time.
Schedule, lecturers and links to lecture recordings
Please find all information in the detailed schedule
Download programme flyer in PDF format (open access)
if you missed a lecture, you can access the recording from there
Regular lecture time: 18 pm CET (all lectures will be on Wednesdays)
Lecture dates: 02.11., 09.11., 16.11., 23.11., 30.11., 07.12., 14.12.
Partnership