Literature and Resources Cultural Landscapes 2010
Jump to navigation
Jump to search
Thematic fields according to the 2010 ECLAS conference "Cultural Landscapes"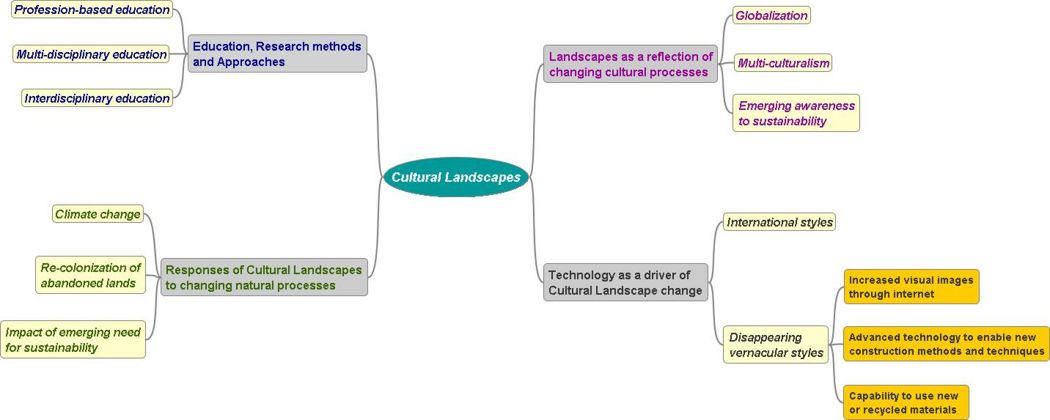 Reading exercise
Dear students, please choose your favourite article and write your name(s) behind it.
Then create a concept map until Tuesday, May 11, 2010, with one of the recommended programs (VUE, Cmap etc.) and make sure it has a suitable resolution for this WIKI and the contents are readible on the Vitero screen (Din A4 horizontal if possible).
In addition, please copy the article details (author, moodle link, title) and paste it according to the given example and the respective ECLAS thematic field that you think might fit best.
If your article relates to more than one theme, please copy the title also to any other thematic field.
In a last step, you upload your concept map illustration (jpg) with an appropriate title to the WIKI and add it together with your name to your article (as shown in the example).
Example
Author: [moodle link Title] Topos issue
Articles with concept maps according to the ECLAS themes
Cultural Landscapes: Education, research methods and approaches
such as profession based education, multi-disciplinary education, interdisciplinary education etc.
Cauquelin, Anne: Timescapes
Responses of cultural landscapes to changing natural processes
such as climate change, re-colonization of abandoned lands, impact of emerging need for sustainability etc.
Landscapes as a reflection of changing cultural processes
such as globalization, multiculturalism, emerging awareness to sustainability, etc.
Technology as a driver of cultural landscape change
such as international styles, disappearing vernacular styles as a result of increased visual images through internet as well as advanced technology to enable new construction methods and techniques and capability to use new materials or recycled materials, etc.
Articles for reading exercise
Topos 26/1999 IBA - a renewal concept for a region
The focus of Topos 26 is on one region in one country: the Emscher region in North Rhine-Westphalia, a part of the Ruhr district. Once the industrial heart of Europe, the site of ruthless industrialization, it had overslept structural change. Now it is the home of the IBA (International Building Exhibition) Emscher Park.
Dettmar, Jörg: Wilderness or park? The Leftover Land Project taking place as part of the Emscher Park IBA introduces the concept of "industrial nature". (Ege Kaska, Serdal Cosgun, Yalçın Yildirim)
Poblotzki, Ursula: Transformation of a landscape The Ruhr is witnessing the application of urban green planning principles to a whole region as a motor of structural change.(Yiting Wei,Chengkang Ye)
Topos 33/2000 Intention and Reality
The urban future will be happening in the periphery because the core is usually occupied by history. Only Berlin had the unique opportunity to build the future right in the centre of town.
Isman, Fabio: Landscape as cultural assets Half of Italy is protected from development, yet the danger of famous landscapes being covered up with concrete still remains.
Latz, Peter: The idea of making time visible Landscape architecture shows ecology as art that realises abstract ideas interpreting spatial patterns. (Roya Sabri)
Topos 44/2003 Conversion
Perforations, shrinkage, intermediate city – we know the terms for these processes but are not so sure about solutions for the problems caused by this landscape change. In any case, landscape is always involved.
Christiaanse, Kees: New urbanism in former harbours Colourful archipelago districts are appearing in harbour areas. Radically mixed uses provide an example for the whole city. (Koesler Barbara, Kazubski Sebastian)
Leppert, Stefan: Westpark Bochum, Germany Mainly involving provision of access to existing elements, the concept for the park at a former steelworks is a simple one.
Weilacher, Udo and Dettmar, Jörg: Landscape as a process The city is wherever an urban lifestyle is. That means it is almost everywhere. What role does that give landscape?
Topos 53/2005 Traffic
Bridges, roads, airports, boulevards, bicycle paths or railway tracks ? the range of traffic structures that should not only be well planned but also attractively designed in the context of their urban or rural surroundings is very broad.
Pachnicke, Peter: The Bridge Landscape of Emscher Park Rehabilitating the River Emscher, misused as a wastewater canal, forms the foundation for redesigning the industrial landscape in the Ruhr district. The artistic bridges in the network of hiking and cycling trails are symbols of the new landscape.
Suwanarit, Asan: The Skytrain in Bangkok The enormous elevated structure of the Bangkok Transit System, commonly known as the Skytrain, has radically changed the means of experiencing passing through the heart of Bangkok's downtown. Today, this structure is continuing its transformation as a complex dynamic across this metropolitan landscape.
Becker, Carlo W.: Across the Periphery – Leipzig North In response to the strong transformation processes of past decades, the City of Leipzig commissioned a spatial concept for its periphery. bgmr Landscape Architects developed an urban cultural landscape.
Detzlhofer, Anna: Landscape Becomes Established Large-scale modelling of the terrain integrates a new motorway on the south periphery of Vienna with the landscape. Geometrically shaped landmarks facilitate orientation for drivers and local residents.
Topos 56/2006 Cultural Landscapes
All over the world, the economic activities of mankind leave their mark on the landscape. Depending on land use, topography and climate, cultural landscapes differ greatly. Besides covering the preservation and rehabilitation of particular cultural landscapes, this issue of Topos focuses mainly on the transformations of landscapes and the challenges for planners involved. Examples range from an Italian wind farm to Bangkok's aquacultural landscape.
Moderini, Daniela and Selano, Giovanni: Windscapes The experimental wind farms of San Chirico and Spina combine renewable energy and information technologies with the region's distinguished culture to create an innovative strategy for communicating the landscape's inherent complexity. (Lukas Spriestersbach)
Briand, Gilles and Mousquet, François-Xavier: Reversing the Image of a Coal Basin Long regarded as a serious handicap, the coal basin's brownfield sites in the French Nord Pas de Calais region, heritage of a glorious industrial past, constitute an experimental laboratory for the regeneration of derelict post-industrial land. (Andreia V. Quintas)
Bokern, Anneke: Westergasfabriek Cultural Park The interim cultural uses of the former gasworks in Amsterdam led to converting the grounds into a "cultural park". The design intends to demonstrate transformations in the relationship between humans and nature over the last century.
McGrath, Brian and Thaitakoo, Danai: Bangkok`s Agri- and Aquacultural Fringe Bangkok's contemporary transportation system reflects ancient layers of waterborne urbanism overlaid with a modern automobile-driven metropolis. Between these conditions, a fresh opportunity arises to re-assess the composite cultural landscape for future bio-energy production.
Dailami, Ahmed and Doherty, Gareth: Cultural Continuums in Bahrain Bahrain is experiencing a tumultuous period of restructuring and expansion with an architectural language rooted in a silently salient binary of traditional versus contemporary. Transition and change are not new to Bahrain, having formed an assortment of landscapes that speak of a far more varied and complex place.
Akerlund, Ulrika : Russian Coutnry Estates Primarily a country base for the bourgeois, the usadba had a significant social role in pre-revolutionary Russia. Although many are now in ruins, and the needs and structure of society have changed, the agency of the usadba as a cultural hub and focus for rural communities is being rediscovered.
O'Donnell, Patricia M.: Preserving Designed Cultural Landscapes There is a broad legacy of cultural landscapes as designed, evolved, relic and associative properties in the USA. While cultural landscapes of all types hold interest for the planning professions, understanding the designed landscape and intervening to further its preservation is most readily taken up by design professionals.
Playdon, Dennis: Acoma - A Landscape of Settlement There is a broad legacy of cultural landscapes as designed, evolved, relic and associative properties in the USA. While cultural landscapes of all types hold interest for the planning professions, understanding the designed landscape and intervening to further its preservation is most readily taken up by design professionals.(Jovana Kovacevic)
Shannon, Kelly: Drosscape New landscapes are continuously created while others are destroyed. The cultural landscapes of the 21st century include the globe's vast post-industrial landscapes, and territories simply consumed by sprawling development. (Ieva Kiesnere)
Krebs, Stefanie: Art and Landscape Artscape Nordland presents 33 works of art in the Norwegian fjord landscape. Different positions on art and landscape range from staging elementary forces and creating spaces for social interaction to re-romanticization and the sublime.
Schmitz, Martin: The Strollology of Lucius Burckhardt The political economist, sociologist, art historian and planning theorist Lucius Burckhardt founded "strollology" in the 1980s at the University of Kassel, Germany. It deals with human perception and its feedback into planning and building.
Ranatunga, Priyanka: Cultural Landscape and Tsunami Resettlement Following the 2004 tsunami in Sri Lanka, landscape architects re-interpreted ancient human settlement patterns in order to re-locate affected peoples into culturally and ecological sensitive communities.
Adams, Ann: Dimbangombe Project – A Holistic Landscape Approach Over the past decade there has been increasing interest in natural capitalism and a holistic approach to resource management. The Dimbangombe Project in Zimbabwe focuses on creating a healthy landscape.
Yu, Kongjian: Positioning Contemporary Landscape Architecture in China In an era of multiple unprecedented challenges imposed by the processes of industrialization and urbanization, landscape architecture is now on the verge of change in China. It is time for this profession to take the great opportunity to position itself to play the key role in rebuilding the Land of Peach Blossoms for a new society of urbanized, globalized and inter-connected people. (Hua Shu,Lu Sun,Ya Li)
Topos 58/2007 City Strategies
Cities are responsible for accommodating most of the world population. Cities grow; big ones get even bigger; new satellite towns are supposed to ease the strain on city centres. Urban planners therefore face major tasks in creating liveable urban environments for millions of people. Topos presents examples of urban design strategies, in Sydney, Shanghai, Dubai, London, Madrid, Chicago, Vancouver and Bogotá.
Hawken, Scott: Sydney – City of Landscapes Since the 2000 Olympics, and in light of an ongoing explosion in population, the need for a drastic overhaul of Sydney's urban system has become clear. A series of new landscape projects provide physical models that respond to diverse planning challenges.
Kögel, Eduard: Metropolitan Region Shanghai The town planning history of Shanghai has taken many turns with political change in the past century. A consistent planning strategy could not be implemented until the 1990s when development really took off. The achievements will be presented to an international audience at the World Expo 2010. (Yan Hu, Lei li)
Ruff, Stefanie and Dong, Nannan: Managing Urban Growth in Shanghai The targeted urbanisation of Shanghai's suburbs leads to a decentralized growth that forms a polycentric regional network. New Towns take various Western urban developments as their models.(John Sun) (Runzi Luo)
Woodman, Ellis: Livingstone's London Mayor Ken Livingstone has already had considerable impact on London's built environment, but in the coming years his policies are set to transform the city to an unprecedented degree.
Ng, Waikeen and Vegara, Alfonso: Spain's Growing Capital City Large infrastructure projects represent a major step forward for Madrid's transport planning, preparing the city for the future – and the next Olympic bid.
Davis, Mike : Fear and Money in Dubai Some may consider Dubai the prototype of the 21st century metropolis. Mike Davis describes the luxury urban enclave as the apotheosis of neo-liberalism. Petrodollars are invested in fantasy worlds and architectural landmarks to establish the city as a brand on the world market.
Burger, Don, Roehr, Daniel and Soules, Matthew: Mirage Metropolis Vancouver has become such a global model for urbanism that Vancouverism refers to the twin ideals of increased residential density and liveability in the city core. The article critically reflects on this approach which, despite its many failings, nevertheless creates new possibilities for landscape.
Lindke, Lybra: Chicago's Green Strategies Long since considered an industrial and economic workhorse within the United States, Chicago's approach to redefining its greenscape has changed its reputation from a city laden with underutilized and vacant manufacturing and industrial sites to a city striving to become a model for comprehensive green urbanism. (Derya Yazgi-Damla Tas)
Chappell, Jim: Chicago Central Area Plan Subtitled "Preparing the Central City for the 21st Century", the Chicago Central Area Plan is nothing less than the next step in Chicago's hundred-year quest to build the world's greatest city, and build it according to a plan.
Fajardo, Martha Cecilia and Kawashima, Noboru: Bogotá Transformations Implementation of a series of masterplans in recent years has turned Bogotá from a chaotic, unsafe city into a capital with a progressive transport system, public parks, pedestrian and cycle networks.
van Oers, Ron: Safeguarding the Historic Urban Landscape More and more historic cities adopt strategies and policies that assign an important role to heritage in the city's social and economic development. A well-managed historic urban landscape is a strong competitive tool as it attracts not only tourists, but capital and residents as well. It is essential to establish an active partnership between conservation and development. (Mirjana Jovanovic, Nada Jadzic)